Cobourg, Ontario - This Saturday, April 14th, 2012, Dave and Julie Avery present the 15th annual GTA 2012 FAME Central Championships at the Coboug Community Centre in Cobourg, Ontario, Canada.
The various categories and formats run from 1pm – 7pm on Saturday – for more info on the show or to contact the organizers, visit Dave & Julie's Team Avery Website.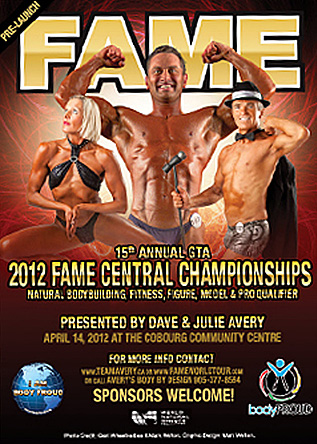 About FAME – The Fitness And Model Expo
FAME, the Fitness And Model Expo, is one of the, if not the, premier all-natural bodybuilding associations in North America, but it's so much more than that. Headed by Jeffrey Kippel & Mindy Blackstien, FAME has spread world-wide, bringing the joys of natural bodybuilding, fitness, figure and modeling competition to hundreds of thousands of athletes, models, competitors and enthusiasts of every age. And it doesn't stop there…
Through their FAME Media Group, Jeff & Mindy have also launched their BodyProud.org website, which brings together members of the general public looking to get fit, stay fit and be, well, body proud! Rather than another competitive fitness challenge, BodyProud is for those who are proud of what they've overcome, happy with their current level of fitness and striving to be better each day – no matter what level they're currently at, from beginner to competitor in FAME or other professional groups. Instead of competing with each other, BodyProud members have formed a supportive community where all clebrate the effort of each other and offer motivation and encouragement to all.
About Dave, Julie & Team Avery
Team Avery is a group of competitive, natural bodybuilding, fitness, figure and model athletes committed to making the tumultuous journey to the stage with an intensive support system. Guided by Dave and Julie, and armed with posing techniques and stage education – team Avery competitors take the stage with confidence and professionalism. With an emphasis on team camaraderie and friendly competition individual competitors form strong bonds, that carries them through the difficult pre-competition dieting and training regime.
Dave Avery
• Personal Trainer (PTS) – CanFitPro
• Sports Nutrition Specialist (SNS) – Optimum Health for Life
• Post- Rehab & Medical Exercise Specialist – AAHFRP
• Level II Kettlebell Trainer Specialist – Kettlebell Academy
• WNSO FAME Event Producer/Promoter
• WNSO FAME Judge
• Two time WNSO FAME Trainer of the Year 2009 & 2010
• Competitive Bodybuilder & Fitness Model
Julie Avery
• Sports Nutrition Specialist (SNS) – Optimum Health for Life
• WNSO FAME Event Producer/Promoter
• Competition Choreographer
• Competition Coach
If you're in Southern Ontario, Canada or upstate New York, USA, be sure to get to Cobourg Ontario on Saturday April 14, 2012 for this exiting FAME bodybuilding, fitness, figure & modeling Central Championships!
Technorati Tags: FAME, Fitness And Model Expo, bodybuilding, fitness, figure, model, Cobourg, Ontario, BodyProud, Team Avery, all-natural bodybuilding