New Report: Reversing The Aging Process!
Yours FREE Just For Trying Our Health & Fitness E-Zine!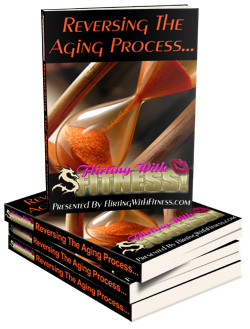 Subscribe to the Flirting With Fitness Fit-Zine for the latest news, views and reviews on the topics of health, wellness, fitness, exercise, building muscle and losing weight - and get this new report as our thank you gift! You're under no obligation - you can cancel your free subscription any time!

Discover How You Can Defy Time By Adopting
A Natural Regimen That Steels Your Body and Mind Against the Aging Process!
Stunningly Simple Routines Can Harness Your Youth and Vitality
and Not Only Keep You Looking and Feeling Young, But
Help Reverse Damage That's Already Occurred...
In this new report, Reversing the Aging Process, you'll discover...
How to Tighten Sagging Skin, Reduce Age Spots, Plump Up Wrinkles, Fight Skin Cancer, and Make Your Hands Look Younger...
How to Get That Lustrous Look Back for Your Aging Hair After It Starts Showing Signs of Damage or Thinning...
What You Can Do to Combat Stiffness, Get Rid of Aches and Pains, Avoid Fractures, and Fix Many Gait Issues...
How to Handle Bouts of Depression, Avoid Loneliness, and Deal with Anger and Anxiety...
Ways You Can Keep from Packing on Pounds as You Age – or Losing Weight Once It's Already Clinging to You...
Simple Solutions to Help You Retain Both Your Short and Long-Term Memory, and...
How to Help Your Body Fight and Prevent Disease That Can Rob You of Many Years!
That's right - just for trying our free Help & Fitness E-zine you'll be
able to download this powerful new report for FREE!
Take action now and you'll be reading Reversing The Aging Process
in just a few moments - fill in & submit this form now:
---
FlirtingWithFitness.com Home | Privacy | Disclaimer | Contact Us