Welcome To Flirting With Fitness – Your New Favorite Online Source For Fitness, Bodybuilding, Weightlifting, Nutrition & Exercise Information!
What Is 'Flirting With Fitness'?
Flirting With Fitness is a new online resource for the average person who wants to be fit, without having it take over their life. Our goal is to help you enjoy your life more through adoption of a fitness lifestyle that enhances, rather than detracts from your existing life. This isn't the site for you if you're an extreme athlete of any sort or determined to be a 'roided-out hulking mass – it's for those who want to bring fitness, weightlifting, bodybuilding and/or proper nutrition into their life and enjoy the benefits of better health, of feeling good about themselves and their lives and reduce the effects daily stresses are having on their physical, emotional & spiritual wellbeing.
With few exceptions, the information on this site is written by people just like you, though perhaps a bit further along the fitness path. This isn't a collection of highly-scientific jargon written by gym rats that you can't begin to relate to – in fact this information is from a number of different sources who, unless otherwise stated, are NOT certified by any ruling body, not professionally medically trained or even nutrition or kinesiology educated in the formal sense. Instead, this is information gleaned from years and years of flirting with fitness, of observing the fitness and bodybuilding worlds and from a voracious appetite for the most up-to-date information. Far from being aimed at fitness fanatics, the site is built by normal people for normal people – whether you're 18 or 85, male or female, struggling or well-off, first starting out to be fit or already participating in fitness contests, bodybuilding shows or weightlifting contests.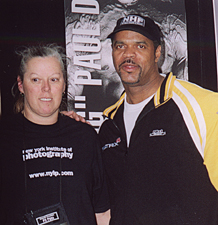 Flirting With Fitness Photo Editor Teri Champigny
with former Mr. Olympia competitor Paul Dillett.
Photo ©Champigny Photography.
This site is NOT owned by a supplement company, exercise equipment or similar company, but by individuals with no axes to grind and no agenda to promote any particular company or product line – we'll tell you about what we think is helpful. In fact, our only other endeavor that even touches on these subjects is our photography business, Champigny Photography, where our scope does include fitness photography, and a couple of related blogs on other sites. Far from being detrimental though, our photography has given us more insight into the worlds of fitness & bodybuilding through gigs like being the official photographers at one of the early Fitness And Model Expos (FAME), covering Musclemania & the Ontario Bodybuilding, Fitness & Figure Championships for Muscularity Magazine and photo-illustrating a UMM Magazine article on Harley Pasternak, personal trainer to a number of Hollywood personalities like Hale Berry and Lady GaGa.
Why Is This Site Named 'Flirting With Fitness'?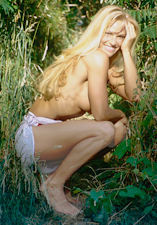 Fitness Model Melisa Ann is a perfect
example of how sexy a fit body can be!
Photo ©Champigny Photography.
The Flirting With Fitness name refers to two different aspects of our site. First, most of our target audience has been flirting with fitness most of their adult life – from sports in high-school and college to pickup games, tennis or squash matches, participation in martial arts or boxing, exercise classes, yoga classes, pilates, spinning, etc. But this has never coalesced into a fit lifestyle, so really you've been 'flirting with fitness' all along… With this site we hope to help you continue in a fit lifestyle so you can enjoy all the benefits that come with being strong & fit.
The second reference to the name is from the fun, sexy, sensual and flirtatious side of being fabulously fit. From the eye-candy aspect of mens' and women's bodies to the benefits a heightened state of overall fitness brings to flirting, dating and sexual relationships, be they casual encounters or between couples maried for a great many years.
Make no mistake about it, fitness is sexy at 18, 30, 50 and even 75 years of age; If you're going to flirt with that pretty girl or try to land a night with that gorgeous guy, only a fit body and mindset keeps your mouth from writing cheques your body can't cash! And, as it's part of the fitness lifestyle, we'll bring you articles on flirting, dating & relationships too!