Quick Bicep Workouts
© Doug Champigny, http://flirtingwithfitness.com
All Rights Reserved Worldwide.
Bigger biceps are a status symbol, a symbol of personal physical power, and every bodybuilder spends a fair amount of time working to achieve the best biceps they can build. Unfortunately time isn't always on our side, so for some workouts we need a quick bicep routine like this one…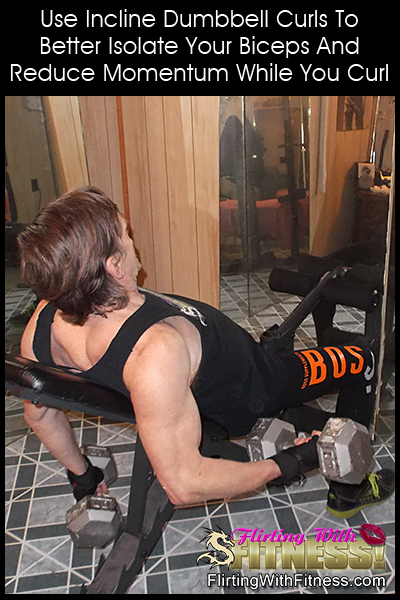 Now, we don't want to take a lot of time, but we don't want to waste what little time we have either, right? So do a quick warmup set of curls if you haven't already warmed up your biceps while training other bodyparts. Don't overdo it – one set of 10 – 15 reps should suffice to get blood into the muscles and loosen up the joints, tendons and ligaments. Now choose a pair of dumbbells you can manage safely for 10 or 12 reps with strict form.
Note that these aren't reps you can cheat up with plenty of momentum and 'body English', but rather good, strict reps at a temp of 1 second up (concentric) and 3 – 5 seconds down (eccentric). For 2 of these 3 exercises you'll be taking body motion out of the equation entirely, so you need to choose weights that are challenging but manageable.
Do each of these three biceps exercises for 3 – 5 sets (depending on your available time), with 10 – 12 reps per set. Focus on keeping to your tempo, not trying to race through each set.
Incline Dumbbell Curls
Set the back of your bench to a 30 – 45 degree angle, then sit on the bench laying back against it with the dumbbells hanging at each side. Perform your curls through the full range of motion, finishing a full rep with one arm before repeating with the opposite arm. Keep your body flat on the bench throughout and don't let your elbows travel forward as you raise and lower the weights.
Dumbbell Scott Curls or Dumbbell Preacher Curls
Depending on the equipment you have available, you can do these as Scott curls or preacher curls. If neither bench is available, you can also stand behind an incline bench and rest the back of your upper arm down the padded back. Use a sitting or standing position that has you leaning forward from the waist with your armpit snug to the top of the pad. Resist the urge to lean backward as you raise the weights – the reason you're using the bench is to prevent yourself from 'cheating' the rep by involving your bodyweight. Curl the weight to the top, squeeze your contracted biceps hard for a second or two and then return it, under control, to the extended position.
Standing Dumbbell Curls
To finish off this quick bicep workout, use standing dumbbell curls. On the first exercise your elbow was behind the plane of your body while on the second it was ahead of your body, and this time you'll keep your elbows at your sides. Raise the weights one arm at a time, pronating your wrist at the top, rotating it to bring your baby finger closest to your chest & shoulder, before lowering it again at a controlled pace. Do not just let it drop back down, stick to the 3 – 5 second pace.
By the end of this quick bicep workout you should be able to tell the muscles have been well-worked, and flexing them should reflect a good pump. If timing is too tight even for this short routine, you can shorten it even further by doing one set of each exercise with no breaks in between, resting for one minute and then repeating the 3 sets until you've done your 3 – 5 cycles.
Either way, re-rack your dumbbells and smile – your biceps know they've had a great, fast workout!