Exercise For The Right Reasons
© Tina Anderson, http://flirtingwithfitness.com
All Rights Reserved Worldwide.
With age comes wisdom and I'll gladly accept that gift and try to pass it along, especially when it comes to exercise. Back in the 80's, I was a leg-warmer wearing aerobics instructor and I absolutely loved teaching. I also taught too many classes. I subbed as much as I could and showed up near death (sick); I skipped various gatherings or showed up late because of teaching. Why? I was always secretly hoping that the extra calorie burn would help me lose weight and of course I was afraid of gaining weight.  (There were a lot of us and probably still are.) Unfortunately, I didn't put the same effort into my nutrition.  I remember one incidence while I was working as a communications coordinator for a chamber of commerce. We had just finished a day-long workshop and there was a leftover box of donuts in the conference area. I was the last one to leave so I had to clean up. I walked by the box about 1o times, pulling pieces off various donuts with each passing. Eventually, I ate three glazed donuts in a row. Three. Glazed. Doughnuts. I then ran off to teach my high-low class at the YMCA and stayed an hour longer on the treadmill to "exercise away my bad diet." What a way to live.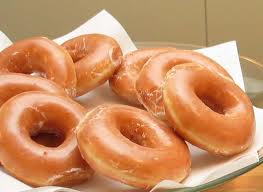 How many of you have tried to lose weight by starting a workout routine and then adding to the time, days, intensity or all of the above because you still can't drop enough pounds or cut body fat? Complete frustration, often leading to more exercise and usually super low calorie days (complete disaster).  I could address all of these separately but today is about approaching your workouts from the right perspective. Remember, I have hard-earned wisdom so you can trust me.
Exercise for the right reasons –  beyond weight loss and maintenance. Easier said than done? Not really. Stay with me and for many of you, you're already there – and, congratulations.  Move your body as a gift to yourself and for those you care about. Exercise to release endorphins. Exercise to release stress. Exercise to feel alive, energized and empowered; strong, fast, limber, connected, whatever. Exercise in a way that works for your body (and mind). Exercise to correct imbalances or flaws. Exercise to compete at your highest level. Exercise to test and push yourself past physical and mental boundaries. Exercise to have fun and be social. Increase intensity or duration when your body tells you it's right – when you're in the zone and feel unstoppable and yes, when you have excess calories to burn off from a decadent weekend or for a specific goal. And, of course, exercise to help you lose weight and maintain but exercise is not a punishment for what you have eaten. We are the privileged – those of us who get to move and choose how we do it.
As far as weight loss, dial in your nutrition. Stop making excuses and learn how to manage your weight with what you put in your mouth so you can look forward to your workouts and keep them in balance for the rest of your life. I lost 8.2 pounds during our 21 day detox. My husband lost 23. The only exercise we did was light walking. Light (never out of breath) walking. That's what proper nutrition does for you. Killing yourself in the gym will not yield the same results if you're eating crap all the time, and I speak from experience. And, for Pete's Sake, throw away any leftover boxes of doughnuts before you get overtaken by the sugar demons. Again, I share my profound wisdom (okay, fine, not profound but practical)!
Now, go move in peace and harmony or for some of you, rock the friggin' free world!