How To Have And Maintain A Healthy Relationship
© Susan Preston, http://flirtingwithfitness.com
All Rights Reserved Worldwide.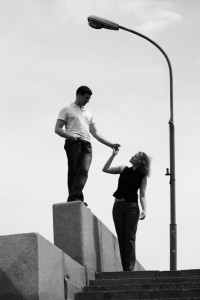 We go to relationships to give and share. It is so exciting in the beginning, then all of a sudden that giving and sharing has been compromised. Now it seems that one or even both of you have become needy and are now taking instead of giving.
It is not that either one of you mean to do that, but when we don't take the time to fill ourselves up consistently with love, honor, trust, self-esteem, respect, worthiness, joy and happiness, etc. that is what usually happens. You see if we aren't doing this, then eventually we will start feeling drained and empty. That is where the neediness and being a taker comes in. It is only human nature.
Building a relationship with a partner that resonates well with you is exciting and
life-enhancing as the two of you look forward to a happy life together. You might
even discuss hopes and dreams for the future. So how do you ensure that you get to
keep this wonderful experience you're building together?
Tips On How To Have And Maintain A Healthy Relationship:
Communication Skills:
Healthy relationships exhibit excellent communication skills. It is so vital that you each listen to one another attentively. By doing so, you will both feel in that very moment that you are a priority in each others lives instead of an option. Look at one another and give eye contact during your conversations. Let your partner talk while you listen and they should do the same for you. It is so important to take turns talking and listening.
Enjoy Life:
Find things that you both enjoy doing together! It is so important to enjoy life together. Bring laughter and lots of smiles into your relationship. Do things that make each others lives easier so that you can have more time to spend having fun together.
Watch a funny movie together and snuggle on the couch while you are watching it. Make it a date night. The more that you can enjoy each other and your life together, the easier it will be when you are faced with a challenging time.
Show Affection To Each Other:
Get comfortable showing your love with one another. You might slip your
hand into your partner's hand spontaneously when you are taking a walk.
At a party, chat with others together or "separate" briefly to take part in conversations with others. But eventually, gravitate back to your partner to see how they are doing. Maybe touch them on the back so that they know you are there.
Give hugs often, especially when one of you leaves the house or returns home. By showing your affection to each other, your intimacy will grow even more so. It's not all about what happens in the bedroom, it is the day to day affection that keeps the passion going.
Disagree In A Respectful Way:
Never yell at each other, but rather use a moderated voice volume and tone. In a
relationship, there's bound to be an occasional disagreement or misunderstanding. How these are handled makes all the difference.  It is okay to disagree, but it is how you do it that really matters. Learn to compromise.
Apologize:
When necessary, if one partner did something to upset the other one, it is necessary that they apologize. In a healthy relationship, partners are honest with themselves and each other regarding mistakes they make.
By apologizing you are admitting that you were wrong and that helps to demonstrates to your partner that they are a significant part of your life and that their feelings do mean something to you.
Respect:
It is so important show genuine respect for one another. By doing so, it sends out a very powerful ongoing messages to one another of "I cherish you" and "You are special to me."
Trust:
People in healthy relationships put forth a lot of effort to figure out this process and, ultimately, earn and give trust. It does take time to earn someone's trust so if your relationship is just starting out don't force it either way but just let it naturally happen. It is so vital not to lose your partner's trust as it is hard to get it back and in some cases you might not be able to and thus the relationship will eventually end.
Stay In Tune With Each Other:
It is so important to consistently stay in tune with each other. Let them know how much they mean to you and just how much you appreciate them! If your partner says or does something to upset you and you can't ask them right then and there as to what they meant, attach 2 or 3 positive things that it could be. Don't assume but rather when you get a chance, ask them about it in a calm and loving way. You will probably find that it wasn't about you at all but rather a challenge that they might have been dealing with internally.
Have A Shared Social Life:
Make it a point to go out and have fun as a couple with friends that you both resonate with. Family events are fun and great, as well. It is also important to have dates just the two of you,  as it solidifies the partnership and helps you to stay intimately connected. It is a good thing to go out with your friends individually at times, as well.
Independence:
It is so important that you and your partner have a solid sense of independence and a strong sense of who you are. By doing this, neither one of you will become needy and a taker.  Even though you have each other, each of you needs to understand that you are still an individual and that you need to be your own support system. This way, whatever support that you give to each other will only enhance what you both have already given to yourselves.
If you are expecting your partner to fill your every need that you have, you will most likely be disappointed and vice versa. We have to give to ourselves not only what we want to give, but what we are wanting to receive.
I hope that these tips will help you to develop a healthy, long-lasting relationship. As you can see, building and maintaining a healthy relationship takes ongoing work, but the
effort will pay off by bringing you many joys. I would love to connect with you on my Facebook Fan Page where I give tips on how to grow not only yourself but your relationships and business: Susan Can Help Me Today.  You deserve to have the everything that you truly desire! Remember, you are Amazing! I am rooting for you!