Exercising And Dieting For A Flat Stomach Or 6-Pack Abs?
© Doug Champigny, http://flirtingwithfitness.com
All Rights Reserved Worldwide.
Excessive belly fat isn't just unsightly – it's also very harmful to your health and well-being. Fortunately, there are a lot of options when it comes to the exercises and diet modifications to help you burn fat and achieve a flat stomach or even sport 6-pack abs.
For most people, getting a flat stomach is plenty good – they're not looking to go overboard with extreme exercise and nutrition regimes, but simply want to lower bodyfat to a healthier level. A certain level of fat is required to protect the joints and cushion internal organs, and these people simply want to move closer to that healthy level from being overweight or obese.
Some will stop at that point, but others will decide they like how much better they feel, how much more energy they have and how much more attention and positive re-enforcement they receive as they achieve noticeable weight loss – and they'll decide to go that extra mile and build 6-pack abs. If you're new to the term, having 6-pack abs refers to building your abdominal muscles and reducing the belly fat covering them to reveal the 2 vertical rows of muscle through your mid-section. Physiology differs from person to person, and you may find the area split in 4, 6 or 8 horizontal 'bumps', but since 6 is the most common occurrence your abdominal showcase is generically referred to as your 6-pack.
Here's a video of IFBB Fitness Pro Oksana Grishina… This isn't strictly an abs exercise video, it was shot at a photoshoot for M&F Hers magazine. But watch the video through and you'll see a number of lesser-known ab exercises you probably haven't tried…

As you saw these are fairly extreme core exercises and they've given Oksana a fantastic mid-section. If you're just starting out, don't even try these exercises, but if you're getting close to your 6-pack and can't get the muscles to truly pop, try adding two or three of these core exercises to your ab training routine. And that's great for fitness pros like Oksana, but what about those just starting to try and reduce belly fat?
You've probably seen the saying that '6-packs are built in the kitchen' – this is an oversimplification and not really accurate. Like any other muscles, your abdominal muscles are built in the gym, using progressively heavier resistance and/or additional repetitions. No matter how well you build them though, they won't be visible unless you're following a healthy nutrition program that reduces belly fat to reveal the muscles you've built.
For most people it's adhering to the strict dietary program that is the hardest, not the exercising. This is because it's simply not possible to spot-reduce when burning fat. Instead, body fat reduction occurs proportionately over your whole body, and since your belly probably holds the most fat, you'll have to reduce fat levels a fair way to remove the bulk of it from your mid-section. Most people will find the muscles on their other body parts looking ripped before their abs look shredded – use that extra definition on your other muscles as motivation to continue with your quest for a 6-pack!
If you're just starting your weight loss journey, decide to aim for a flat stomach first. As you get close to that goal you'll have a much better understanding of what it takes to build and reveal your 6-pack abs and can decide at that point whether to continue on or just maintain the flat stomach you've achieved.
Aiming to go from overweight or obese to a 6-pack may prove to be too far-off an end goal to keep you on track and motivated, so break your quest into 2 or 3 parts and focus on one at a time, knowing all the while that you'll keep going as long as you find it worthwhile to continue. If you're overweight or obese and have been living a sedentary lifestyle, make an appointment with your doctor and hire a personal trainer – getting started and changing your mindset and activity level is actually the hardest step to take…
Fortunately there are some proven programs available online that can help you reach that flat stomach or 6-pack abs goal, and these are a great idea if you don't have access to one-on-one personal training or simply can't afford a great trainer. Here's just a couple of suggested resources, each of which has been around long enough to prove themselves effective for thousands of users…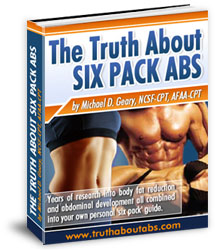 Mike Geary's Truth About 6-Pack Abs Already online for 8 or 9 years, Mike's Truth About 6-Pack Abs e-book delves into the three most important areas of concern to you – exercises, nutrition and mindset. Using unique workouts, fat-burning foods and motivational devices, his system has proven itself over and over again. This is a great resource no matter what level you're at now, from just thinking about reducing your fat levels to trying to lose that last few stubborn pounds of fat that are hiding your 6-pack.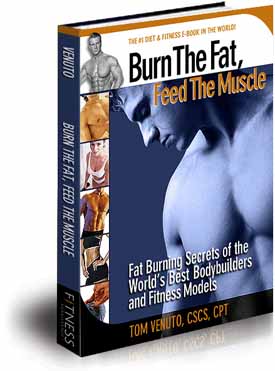 Tom Venuto's Burn The Fat, Feed The Muscle Tom Venuto has been involved in almost every aspect of the fitness and weight loss industry since 1989: personal trainer, nutrition consultant, motivation coach, fitness model, health club manager and best-selling author. Tom is quick to point out that Burn The Fat, Feed The Muscle isn't a weight loss program but a FAT loss program, and invites everyone from those looking to lose 100 or more pounds to those doing contest prep to use and succeed using his proven strategies. As a natural bodybuilder building a drug-free physique, Tom has a lot of personal experience with getting cut, as well as having personally trained a number of other athletes – in short, his methods work!
And that's the beauty of the Internet vis-a-vis the health & fitness industry – not only do you have access to established pros, but you could grab both of those programs for less than the cost of a single personal training session with a top trainer. While you could eventually do it yourself through a lot of trial and error, save yourself the time, energy and disappointment by using proven systems guaranteed to get you to your goals faster.
If you have questions or comments about burning bodyfat, getting a flat stomach or building six pack abs, be sure to leave your comment below… Once you're on your path to a flat stomach or 6-pack abs, you'll love how much better you feel each and every day as your weight drops, your belly flattens, your energy soars and your self-confidence builds – welcome to your new healthier success lifestyle!
Technorati Tags: 6-pack abs, flat stomach, belly fat, burn fat, reduce belly fat, exercise, abdominal muscles, six pack abs